We stock and sell the best clothes at the best prices around!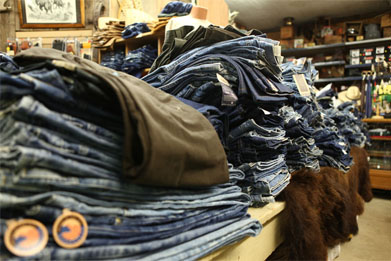 At Hunter's Needs and Mercantile we have outerwear for men, women and children in the styles and sizes you want. Whether it's bottoms, shirts, socks, tees, bibs, we've got it. We have sizes up to 5X and tall sizes when available. Camouflage to hunter orange, High Visibility and everything in between we have it. Choosing from sweatshirts to cotton t-shirts, thermal underwear to jeans and a quality selection of hunting and work clothing.

You'll find jackets, work pants, gloves, safety vests and hats that are equally practical and functional. Hunter's Needs sock selection will ensure your footwear comfort with the right size – medium, large or x-large. We strive to offer the best value for your money.  
Carhartt

In the age of steel, steam and coal, Hamilton Carhartt met a railroad engineer who complained of the poor quality of work clothes of the day. Intrigued by the challenge of making more rugged clothing, he started Carhartt in 1889 in Detroit, Michigan. Determined to do it the right way, right from the start, Hamilton's distinctive brown workwear set a new standard. Building on this heritage, we developed a full line of rugged and comfortable clothes. With Carhartt "trademarks" including tougher fabrics, stronger construction and superior fit, you can reach for any of our styles with confidence. For over 120 years, Carhartt's been the strongest choice you can make.
Western, English Show Clothes
for Men, Women and Children Call them what you like—blouses, tops, or shirts—your upper body garments are the fashion foundation of your western show outfit.

 While your chaps or pants cover the lower half of your body, your torso topper sets the pace for the impression you convey, be it sophisticated, casual, or trendy. Whether you are showing English or Western, we have quality lines of clothing made in the USA such as 1849 that will give you an eye catching look at an affordable price.